Complete Device Lifecycle Management Solutions
Streamlined processes for efficient device allocation, provisioning, maintenance and recycling.
Manage your devices with confidence
Complete Visibility
Managing corporate devices can be challenging, from realizing consistent cost savings to applying program management expertise and easily tracking and monitoring all aspects of the program—but it doesn't have to be. With our MMS solution, Motus helps companies reduce IT spend, improve data security, increase operational efficiency and enable workforce productivity.
Motus can support you with:
Device Allocation: Strategically assign devices to users or departments for optimal utilization.
Carrier Provisioning: Seamlessly configure devices for network connectivity and activation.
Staging - MDM & Company-required Apps: Prep devices with apps and management settings for a tailored user experience.
End User Services: Provide ongoing support and assistance to users for a seamless device experience.
Decommissioning, Disposal & Recycling: Ethically mange end-of-life devices through responsible disposal and recycling practices.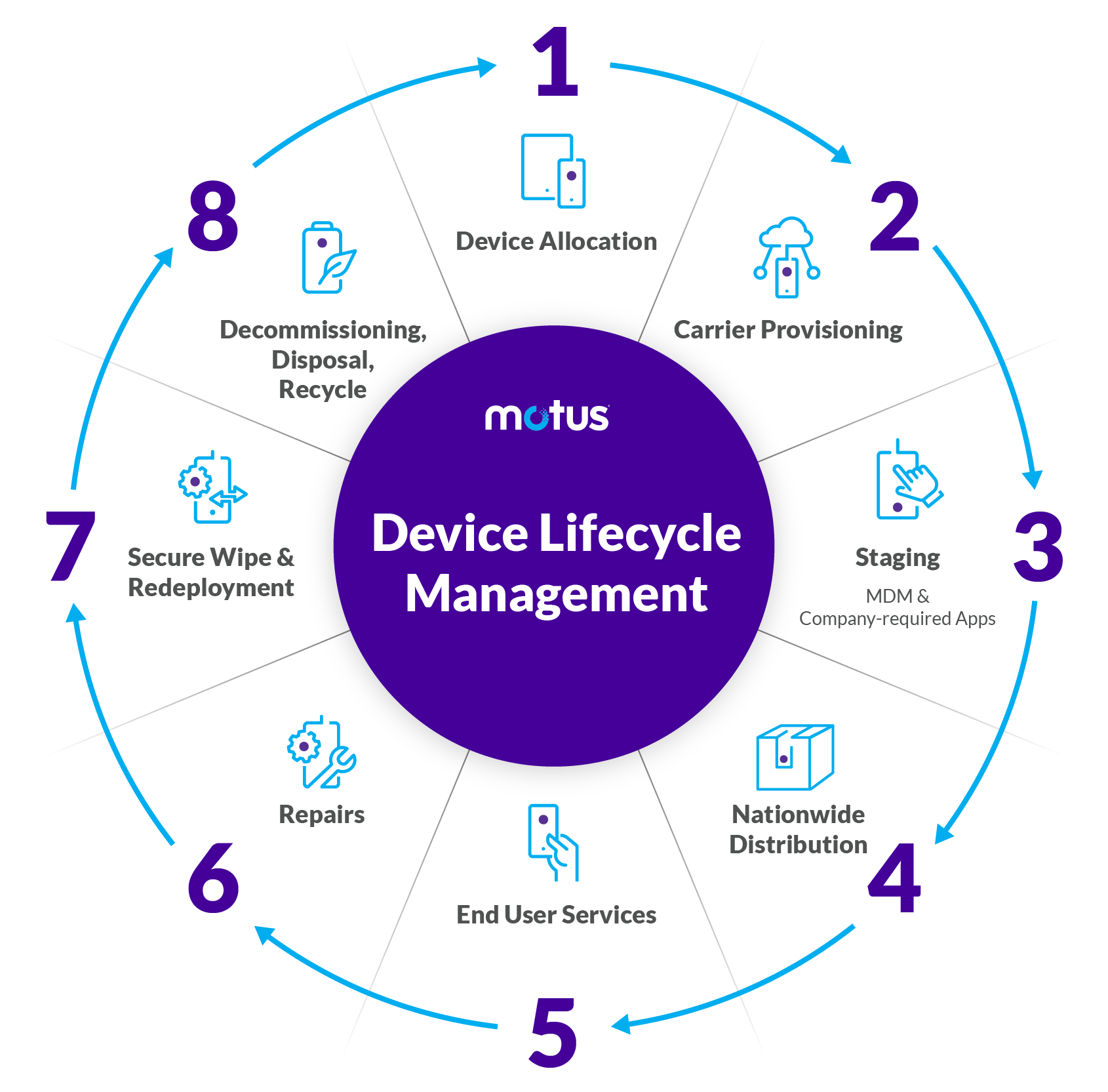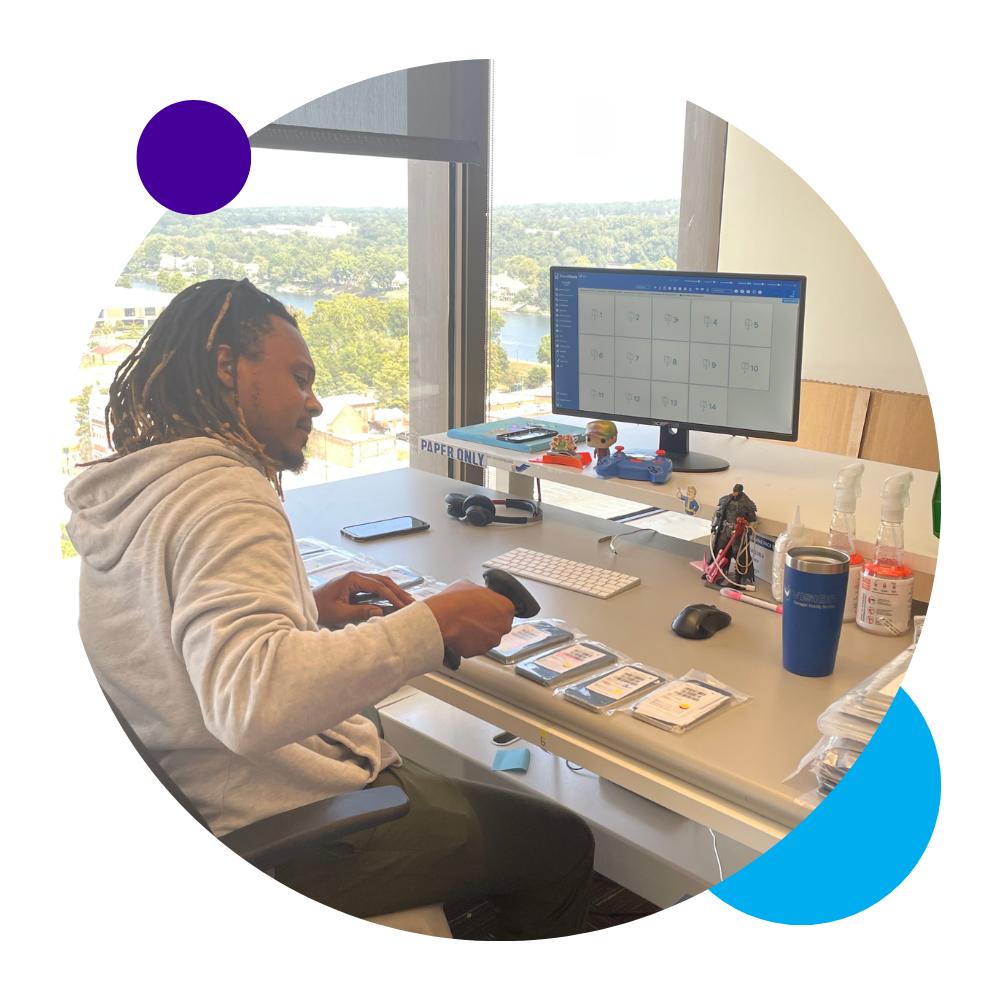 We seamlessly handle all of your logistic needs in one place
Single-source Logistics
We govern your full supply chain, so you can run your company with ease.
Motus can support you with:
Forward Logistics: Involves the initial set up and configuration of devices, ensuring they are ready for deployment.
Reverse Logistics: Focuses on managing the lifecycle of devices after their initial use.
Device Repair: Swiftly address device issues and maintain operational efficiency.
Spare Inventory Management: Efficiently managing and tracking spare devices, ensuring an adequate supply for replacement or repairs.
Recycle Services: Proper disposal and recycling of end-of-life devices.
Your problems are our mission
Responsible device return, recovery and recycling
We are not just about device management - we're dedicated to a greener, more sustainable future.
Making a positive impact:
Recovery and Revitalize: Say goodbye to orphaned devices. Our team swiftly recovers forgotten devices, ensuring they're not only off the carrier bill but given a new lease on life.
Full Circle Solutions: For employee turnover and even upgrades, we repair, replace, redeploy, or recycle ensuring that each device's journey ends on a positive note.
Efficiency and Value: We operate in real-time, streamlining the process and maximizing the recovery value of your corporate assets.
Environmental Guardians: We are committed to responsible disposal and recycling practices, ensuring that your devices are ethically managed and electronic waste is reduced.
Give your old devices a second chance.
Don't let your mobility program hold you back
We saved our enterprise client an ROI of over $3M in 2022 thanks to:
Line Optimizations
Device Costs
Recycling
Zero Usage
About Motus
Motus is the definitive expert in mobile workforce solutions. Its platform simplifies the reimbursement and management of vehicle and device costs through personalized calculations. Powered by an unmatched pool of data, refined over more than 80 years, and updated in real time, Motus is the platform of choice for top Fortune 500 companies and organizations committed to workplace agility. Motus automotive data, captured and analyzed across the world's largest retained pool of drivers, also underpins the annual Internal Revenue Service (IRS) business mileage standard, the amount an individual can deduct for business vehicle expenses. For more information please visit www.motus.com or connect with us on Twitter, Facebook, Instagram or LinkedIn.
"We give your company and your team great reviews because it's true and we appreciate the partnership. Your portal provides all the information for our needs (which are many)." Senior IT Director/IT Infrastructure
"Thank you again for taking the bull by the horns with these "one offs" and project outliers. Again, we appreciate the partnership here and could not do half the things we do without you and your team." Senior Analyst/Vendor Management
"The program is working for us and gives us consistency and direct access for each employee." Human Resources Manager
"The Motus account management team are responsive, knowledgeable, and customer centric." Human Resources Manager
Unlock the power of mobility – without the complexity!
Contact Motus Today